REGISTRAR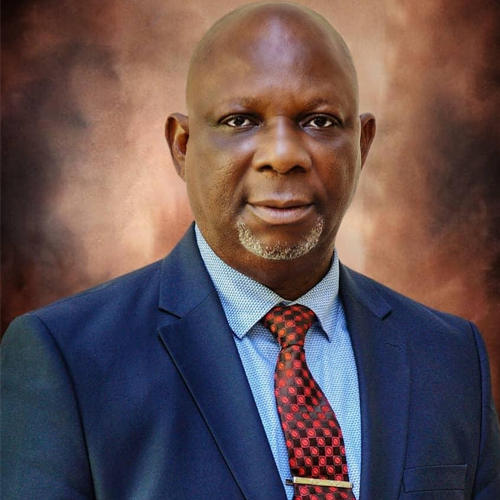 Dr. Guagha Micky Berezi
Registrar and Secretary to Council
registrar@bmu.edu.ng
Dr. Guagha Micky Berezi
Registrar and Secretary to Council
Guagha Micky Berezi is a Higher Education Administrator with 30 years cognate experience in the sector and having worked across four higher education institutions (a College of Education, a Degree-awarding College of Education and two Universities in Rivers and Bayelsa States of Nigeria). He joined higher education administration in 1989 and rose from the rank of an Assistant Registrar to the position of Registrar within the period. In the course of his career as a higher education administrator, he held several positions within the administrative structure of the institutions such as Admissions Officer, Governing Council Officer, Senate/Academic Board Officer, Students Examinations and Records Officer, Faculty Officer, University Advancement and Linkages Officer, Pensions Officer, Entrepreneurship Development Officer, Executive Assistant to Vice Chancellor. He was the pioneer Registrar of Bayelsa State College of Education, Okpoama (now Isaac Jasper Boro College of Education, Sagbama) from 2010 to 2015. He assisted the Bayelsa State Government in establishing the Niger Delta University in 2001, the Bayelsa State College of Education (now Isaac Jasper Boro College of Education) in 2010 and Bayelsa Medical University in 2018.
Dr. Guagha M. Berezi is currently the Registrar of Bayelsa Medical University, Yenagoa. He assumed duty on 8th March 2021.
Dr. Berezi holds the following educational qualifications:
Doctor of Philosophy (University Governance), University of Bristol, Bristol, UK – 2008.
Master of Education (Higher Education Management and Planning), University of Port Harcourt, Port Harcourt, Nigeria – 1987.
Bachelor of Education (Science Education), University of Ibadan, Ibadan, Nigeria – 1984.
Dr. Berezi obtained his PhD from the prestigious University of Bristol, Bristol, UK where he conducted a comparative multi-case study of the corporate governance system of UK Universities between 2004 and 2008 as a research project. Dr. Guagha Micky Berezi was a recipient of Bayelsa State Government Study Fellowship-PhD Research programme worth £70,000 in 2004 and was also recipient of its special Research Grant of £4,500 in 2006.
As a PhD Research Student in the University of Bristol, UK, he was awarded the Swiss Society for Research in Education (SSRE) Prize for Newer Researchers based on research paper titled "Higher Education Governance: The Role of University Governing Bodies in UK" presented at the European Conference for Educational Research (ECER) Congress in Geneva, Switzerland in 2006.
While studying in the UK, Dr. Berezi was specially invited by the Chair of Governing Council, University of Bristol, UK, Mr Jim Foulds to present a paper titled "The Strategy Role of University Governing Bodies in the UK: Re-inventing Governance or Business as Usual?" during the Strategy Away-Day of the University Governing Council on 13th March 2008.
He was a team member of the "England-Africa Partnership Project" of the University of Bristol, UK for the "Strengthening of Education and Social Science Research" in University of Buea in Cameroon, University of Cape Coast in Ghana and University of Dar es Salaam in Tanzania in 2007.
Dr. Berezi has presented several empirical research papers on Higher Education Governance at International Conferences and seminars in England, Scotland, Wales, Switzerland, Netherlands, Belgium, Cameroun, Tanzania , Ghana and Nigeria from 2004 till date.
His area of research interest includes Higher Education Governance, Management and Administration, Corporate Governance, Strategic Planning, University Advancement
He was a member of the following research bodies while studying in the UK between 2004 and 2008:
Society for Research in Higher Education, UK.
Geographies of Knowledge and Geometries of Power Research Network, Gregynog Centre, Wales, UK.
Centre for Globalisation in Higher Education, University of Bristol, UK.
He belongs to the following professional bodes:
Fellow, Chartered Institute of Administration in Nigeria (FCIA) 2015
Fellow, Institute of Certified Public Administrators of England and Wales (FCPA), 2013
Fellow, Institute of Corporate Administration of Nigeria (FCAI), 2012.
Member, Society for Corporate Governance Nigeria (SCGN), 2015
Member, Society for Research into Higher Education (SRHE), United Kingdom, 2004
Member, Nigerian Institute of Management (NIM), 2010
Member, Teachers Registration Council of Nigeria (TRCN), 2011
Member, Association of Nigerian Universities Professional Administrators (ANUPA), Nigeria, 2000.
He is interested in developing Higher Education Administrators, members of Governing Councils of Universities, and Corporate Boards and establishing new higher education institutions in both the public and private sectors in Nigeria.
Dr. Guagha Micky Berezi is a professional Administrator, Researcher and Teacher. He is an indigene of Kaiama in Bayelsa State. He speaks English, Ijaw and Yoruba languages fluently.