BURSAR
MR. GEOFFREY ALAGBA
BURSAR
Mr. Geoffrey Alagba was born on the 14th of June 1973. He hails from Ikibiri Community, Yenagoa Local Government Area, and Odi in Kolokuma/Opokuma Local Government Area, all of Bayelsa State. He started his education at the Amasain Primary School, Odi, and thereafter moved to Ikibiri Primary School, Ikibiri in 1987 then proceeded to Government Secondary School, Odi, and moved to Community Secondary School, Zarama where he completed his secondary education. Mr. Geoffrey Alagba gained admission into the Niger Delta University, Wilberforce Island 2004 and graduated with a degree in Accounting in 2008. Thereafter, he proceeded to enroll with the Association of National Accountants of Nigeria (ANAN) at the Nigerian College of Accountancy, Jos, Plateau State, were he became a Chartered Accountant in 2013. He moved on immediately to run his Professional Post-graduate programme at the College of Accountancy, Jos in 2014. He became a Chartered System Accountant (USA) in 20017 at Baton Rouge, Louisiana, USA.
He began his working career in 2002 with the Budget and Control Department, Ministry of Finance, yenagoa, Bayelsa State. He whent on Study Leave Without-Pay in the between 2004 to 2008. In 2009, he was transferred to the Ministry of Education, Yenagoa were he served as a School Inspector between 2009 to 2013. He was transferred to the Treasury Headquarters, Yenagoa, were he started his accounting career and served as a Reconciliation Officers at the Office of the Accountant General from 2013 to 2018.
When the Bayelsa Medical University (BMU) was created in 2018, Mr. Geoffrey Alagba was posted as Head of Account of the University. Early 2019, the Pioneer University Management deemed him fit to be the Pioneer Acting Bursar, and he became the Substantive Pioneer Bursar of Bayelsa Medical University (BMU) on the 30th of September, 2019 after a successful interview by the University Council. Mr. Geoffrey Alagba is a member of several professional Associations as follows: -Fellow, Association of Chartered System Accountants-ACSA (USA)
Mr. Geoffrey Alagba was a part of the Team of Bayelsa State Integrated Financial Management System (SIFMIS). He attended International Conference/workshop on Accounting & Business Information Technology (ABIT) for Professional Accountants-Southern University, Baton Rouge, Louisiana, USA 2017, Dubai in 2019, and several training workshops within and outside Nigeria. His hobbies are Sports, Reading and Travelling. He is married with 6 children and was appointed. He is a Christian (an Evangelist).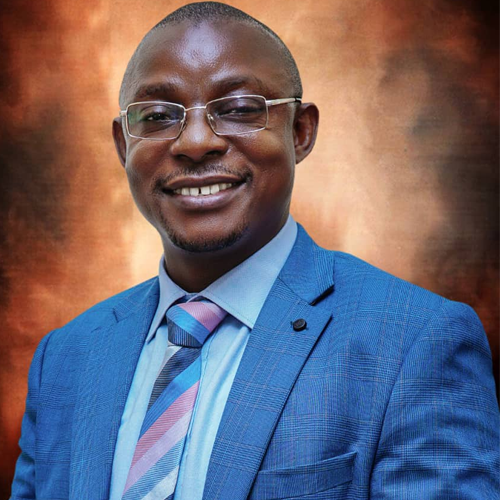 MR. GEOFFREY ALAGBA
BURSAR
bursar@bmu.edu.ng